Call for Papers: 6th IS-FMTS & 4th WVCASEA Conferences
2020-12-07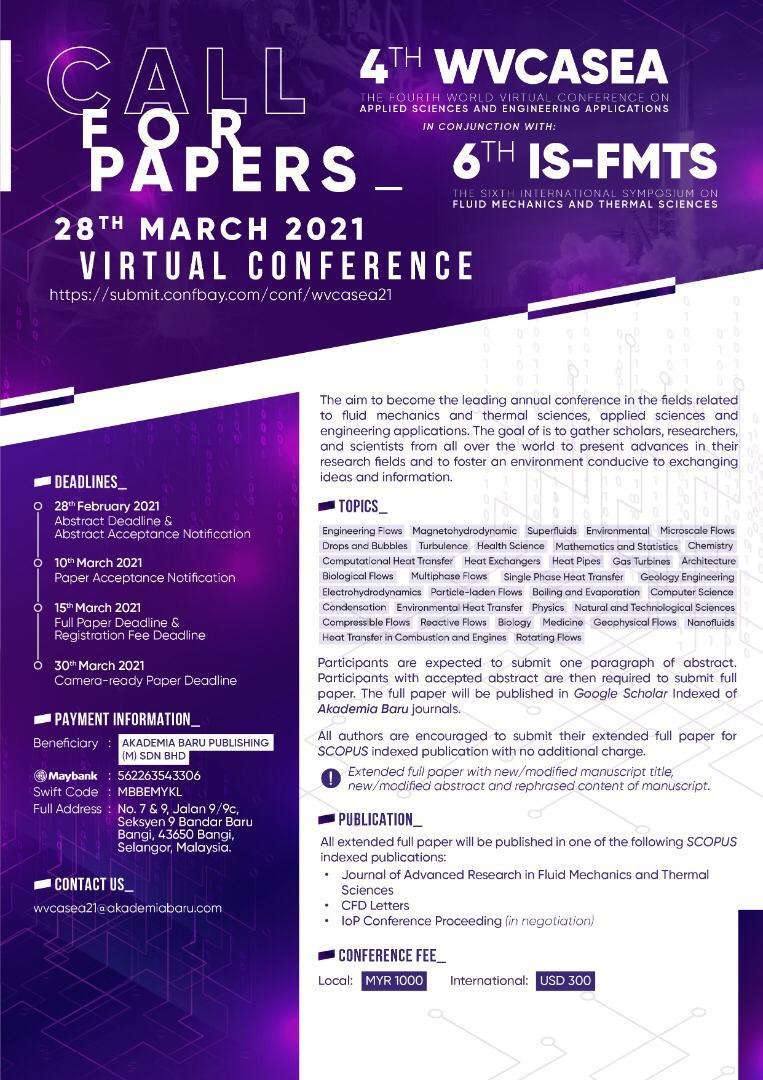 The 4th World Virtual Conference on Applied Sciences and Engineering Applications (4th WVCASEA) and The 6th International Symposium on Fluid Mechanics and Thermal Sciences (6th IS-FMTS). The aim to become the leading annual conferences in the fields related to fluid mechanics and thermal sciences, applied sciences and engineering applications. The goal of the conferences is to gather scholars, researchers, and scientists from all over the world to present advances in their research fields and to foster an environment conducive to exchanging ideas and information.
Publications
Participants are expected to submit one paragraph of abstract. Participants with accepted abstract are then required to submit full paper. The full paper will be published in one of Google Scholar Indexed of Akademia Baru journals.
All authors are then encouraged to submit their Extended Full Paper for SCOPUS indexed publication with NO ADDITIONAL CHARGES.

Extended Full Paper with new/modified manuscript title, new/modified abstract and rephrased content of manuscript.
All Extended Full Papers will be published in one of the following SCOPUS indexed publications with DOI;
Conference Fee
local RM1000
International USD300
Sub-Theme
•    Architecture
•    Biological Flows
•    Biology
•    Boiling and Evaporation
•    Chemistry
•    Compressible Flows
•    Computational Heat Transfer
•    Computer Science
•    Condensation
•    Drops and Bubbles
•    Electrohydrodynamics
•    Engineering Flows
•    Environmental
•    Environmental Heat Transfer
•    Gas Turbines
•    Geology, Engineering
•    Geophysical flows
•    Health Science
•    Heat Exchangers
•    Heat Pipes
•    Heat Transfer in Combustion and Engines
•    Magnetohydrodynamics
•    Mathematics and Statistics
•    Medicine
•    Microscale Flows
•    Multiphase Flows
•    Nanofluids
•    Natural and Technological Sciences
•    Particle - Laden Flows
•    Physics
•    Reactive Flows
•    Rotating Flows
•    Single Phase Heat Transfer
•    Superfluids
•    Turbulence
LANGUAGES
•    English
JOIN US NOW https://submit.confbay.com/conf/wvcasea21