Mixing Chamber for Preparation of Nanorefrigerant
Keywords:
Nanorefrigerant, nanoparticles, SolidWorks, nanofluid
Abstract
The last decade has seen the rapid advancement of nanofluid in several ways. Nanofluid based on the refrigerant have been introduced as nanorefrigerant in recent years due to their significant effects on the efficiency of heat transfer. Previous studies showed some limitation in ways of dispersing nanoparticles into refrigerant. Hence, a new idea of adding nanoparticles into refrigerant has been presented. A mixing chamber has been designed to mix nanoparticles into high pressure refrigerant. The mixing chamber design is drawn with five different wall thickness which are 2 mm, 4 mm, 6 mm, 8 mm and 10 mm to investigate the sturdiest design that can withstand high pressure. Static structural analysis is performed to all designs with different wall thickness on SolidWorks Simulation. The maximum values of von Misses stress and displacement has been presented in this paper. Validation of the results are made by comparing the maximum values of von Mises stress with yield strength of the material. Mixing chamber with wall thickness of 10 mm showed the best results.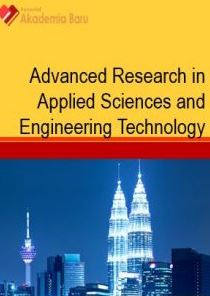 Downloads
How to Cite
Che Halim, N. F. ., & Che Sidik, N. A. (2020). Mixing Chamber for Preparation of Nanorefrigerant. Journal of Advanced Research in Applied Sciences and Engineering Technology, 21(1), 32–40. https://doi.org/10.37934/araset.21.1.3240